Smart Grid Maturity Model (SGMM)
Created September 2018
The smart grid is a constantly evolving infrastructure of digital technology and power industry practices for improving the management of electricity generation, transmission, and distribution. The Smart Grid Maturity Model (SGMM) helps utilities plan their smart grid journeys.
Power Grid Transformation
A major power grid transformation is underway. The smart grid's modernized controls and communication make energy use more reliable, secure, and efficient. Electric power utilities need to develop a vision and roadmap for their own smart grid transformation.
Informing a Vision for Smart Grid Transformation
Developed by utilities for utilities, the SGMM is a management tool that helps electric power utilities plan their smart grid journeys, prioritize their options, and measure their progress. The SGMM's eight domains provide a framework for understanding the current extent of smart grid deployment and a context for establishing strategic objectives and implementation plans:
Strategy, Management, and Regulatory
Organization and Structure
Grid Operations
Work & Asset Management
Technology
Customer
Value Chain Integration
Societal & Environmental
Why Do Utilities Use the SGMM?
Utilities use the SGMM to assess their current state of smart grid implementation; define their goals for a future state; and generate inputs into their road-mapping, planning, and implementation processes. Major investor-owned utilities and small public power utilities alike, in the United States and around the world, have said the model helps them
identify where they are on the smart grid landscape
develop a shared smart grid vision and roadmap
communicate with internal and external stakeholders using a common language
prioritize options and support decision making
compare themselves over time and to the rest of the community
measure their progress
prepare for and facilitate change
SGMM Navigation
SGMM Navigation is a five-step process used to assess a utility's progress toward smart grid implementation and set future aspirations.
Preparation. Participants attend an introductory meeting.
Survey workshop. Stakeholders from across the utility complete the Compass Assessment Survey as a team.
Analysis. Compass data is analyzed against the model and community data, and findings are prepared.
Aspirations workshop. Stakeholders from across the utility review the findings and agree on strategic smart grid aspirations.
Wrap up. Stakeholders plan and document actions based on the aspirations.
The SGMM Compass Assessment Survey automatically generates a scoring report with a maturity level profile compared to the model and baseline aggregate data from the other utilities.
Software and Tools
January 2012
These are the assets related to version 1.2 of the Smart Grid Maturity Model.
view
How Do Utilities Apply Navigation Results?
A completed, scored Compass survey yields a maturity rating for each of the model's eight domains. The levels of maturity represent defined stages of an organization's progress toward achieving its smart grid vision:
Initiating
Enabling
Integrating
Optimizing
Pioneering
By increasing its maturity levels as appropriate, an organization moves closer to obtaining the desired benefits of implementing smart grid features, including
automation
efficiency
reliability
energy and cost savings
integration of alternative energy sources
improved customer interaction
access to new business opportunities and markets
The flexibility of the Smart Grid Maturity Model enables a utility to establish its own unique target maturity profile for smart grid implementation.
Each Compass scoring report also includes baseline aggregate data from all utilities that have completed the survey. A utility can compare this baseline aggregate data to its own survey responses and maturity profile.
November 28, 2018
Brochure
Key questions and answers to get started with the SGMM
read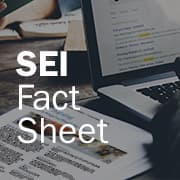 September 12, 2018
Fact Sheet
List of SGMM Partners and Navigators as of mid-2018
read