The SEI: The Leader in Software Engineering and Cybersecurity
Operated by Carnegie Mellon University, the Software Engineering Institute has been a leader in the fields of software engineering and cybersecurity since 1984. We research and solve complex, long-term problems for the Department of Defense, government agencies, and private industry, and we are always working to transition solutions to the software and systems engineering communities throughout the world.
Latest Publications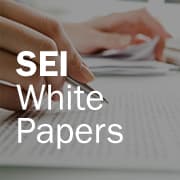 September 17, 2018 • White Paper
The SEI compiled this bibliography of publications about software architecture as a resource for information about system architecture throughout its lifecycle.
Download
August 14, 2018 • Conference Paper
This paper was accepted by the SQUADE workshop at ICSE 2018. It describes the development of several classification models for the prioritization of alerts produced by static analysis tools and how those models were tested for accuracy.
Download
August 09, 2018 • White Paper
This paper discusses twelve threat modeling methods from a variety of sources that target different parts of the development process.
Download
Research and Capabilities
Learn how we support the defense and information security of the United States by advancing the state of the art and practice in software engineering and cybersecurity. Through our research in seven capability areas, our experts push the boundaries of knowledge from R&D through implementation and operation. We create, test, and apply tools, technologies, and practices to acquire, develop, operate, and sustain software systems that are innovative, trustworthy, and cost effective.
News
September 11, 2018 • Press Release
The Software Engineering Institute today announced the hiring of a new chief financial officer.
Read More
August 27, 2018 • Article
Courses, invited talks, and a robust exchange of ideas help software engineering educators develop and improve their curricula and resources.
Read More
August 15, 2018 • Press Release
The CERT Division of the Software Engineering Institute (SEI) at Carnegie Mellon University today announced the release of its Source Code Analysis Laboratory (SCALe) application. This is the first release of the SCALe application to the public.
Read More
August 09, 2018 • Press Release
The Emerging Technology Center at the Software En-gineering Institute (SEI) today issued a call for U.S.-owned organizations to participate in a cyber intelligence tradecraft survey.
Read More
Education and Outreach
Discover our numerous training and credentialing opportunities for individual professional development. We also offer workforce development and licensing opportunities for organizations to apply best practices to their operations.
Work With Us
In addition to our work with agencies across the United States government, we partner with academic institutions and private companies to solve key technical challenges for current and future software-reliant systems. You can sponsor research and development, collaborate with us on research, and even get guidance from us to implement new methods.
Careers
Pursue your passion and work alongside world-recognized leaders in the field of software engineering. We invite you to view current employment opportunities, learn about benefits of working at the SEI, and apply for a position.