The SEI: The Leader in Software Engineering and Cybersecurity
Operated by Carnegie Mellon University, the Software Engineering Institute has been a leader in the fields of software engineering and cybersecurity since 1984. We research and solve complex, long-term problems for the Department of Defense, government agencies, and private industry, and we are always working to transition solutions to the software and systems engineering communities throughout the world.
Latest Publications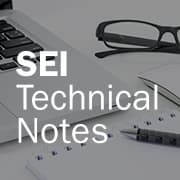 March 07, 2019 • Technical Note
This report proposes measurements for each Software Assurance Framework (SAF) practice that a program can select to monitor and manage the progress it's making toward software assurance.
Download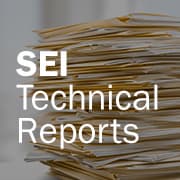 February 27, 2019 • Technical Report
The guide presents recommendations for mitigating insider threat based on the CERT Division's continued research and analysis of more than 1,500 insider threat cases.
Download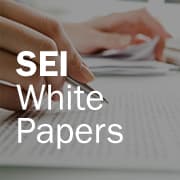 February 06, 2019 • White Paper
This report examines how cybersecurity data generated by a threat modeling method can be integrated into a mission assurance context using the SERA Method.
Download
Research and Capabilities
Learn how we support the defense and information security of the United States by advancing the state of the art and practice in software engineering and cybersecurity. Through our research in seven capability areas, our experts push the boundaries of knowledge from R&D through implementation and operation. We create, test, and apply tools, technologies, and practices to acquire, develop, operate, and sustain software systems that are innovative, trustworthy, and cost effective.
News
February 27, 2019 • Article
CCDC Armaments Center, Fire Control Systems & Technology Directorate (FCSTD) honored
Read More
February 21, 2019 • Article
The SEI's CERT Division has released a suite of open source and freely available tools for use in creating realistic Internet simulations for training and other purposes.
Read More
February 06, 2019 • Article
The nomination period for the Software Engineering Institute's Linda M. Northrop Software Architecture Award is now open.
Read More
January 17, 2019 • Article
Computer security incident response teams (CSIRTs) and security operations centers (SOCs) that are interested in assessing their effectiveness currently do not have many options. A new tool released recently by the SEI's CERT Division changes that.
Read More
Education and Outreach
Discover our numerous training and credentialing opportunities for individual professional development. We also offer workforce development and licensing opportunities for organizations to apply best practices to their operations.
Work With Us
In addition to our work with agencies across the United States government, we partner with academic institutions and private companies to solve key technical challenges for current and future software-reliant systems. You can sponsor research and development, collaborate with us on research, and even get guidance from us to implement new methods.
Careers
Pursue your passion and work alongside world-recognized leaders in the field of software engineering. We invite you to view current employment opportunities, learn about benefits of working at the SEI, and apply for a position.