The SEI: The Leader in Software Engineering and Cybersecurity
Operated by Carnegie Mellon University, the Software Engineering Institute has been a leader in the fields of software engineering and cybersecurity since 1984. We research and solve complex, long-term problems for the Department of Defense, government agencies, and private industry, and we are always working to transition solutions to the software and systems engineering communities throughout the world.
Latest Publications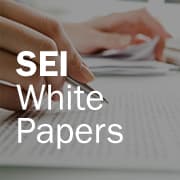 June 24, 2019 • White Paper
This study introduces (1) a dataset of expert labels of technical debt in developer comments and (2) a classifier trained on those labels.
Download
June 24, 2019 • White Paper
This paper presents modeling and analysis of two critical foundational processes of the cybersecurity vulnerability management ecosystem using a combination of system dynamics and agent-based modeling techniques.
Download
June 14, 2019 • White Paper
This paper provides the SCAIFE API definition for beta version 0.0.2. SCAIFE is an architecture that supports static analysis alert classification and prioritization.
Download
Research and Capabilities
Learn how we support the defense and information security of the United States by advancing the state of the art and practice in software engineering and cybersecurity. Through our research in seven capability areas, our experts push the boundaries of knowledge from R&D through implementation and operation. We create, test, and apply tools, technologies, and practices to acquire, develop, operate, and sustain software systems that are innovative, trustworthy, and cost effective.
News
June 20, 2019 • Article
Registration for FloCon 2020 is open. The January 6-9 event in Savannah, Ga., will explore large-scale, next-generation data analytics for security operations.
Read More
May 28, 2019 • Article
Managing Technical Debt: Reducing Friction in Software Development, the latest book in the SEI Series in Software Engineering, is now available.
Read More
May 22, 2019 • Press Release
A report on cyber intelligence practices was released today by the Software Engineering Institute (SEI) at Carnegie Mellon University.
Read More
April 30, 2019 • Article
The CERT National Insider Threat Center hosts the Insider Threat Symposium on May 10 in Arlington, Va.
Read More
Education and Outreach
Discover our numerous training and credentialing opportunities for individual professional development. We also offer workforce development and licensing opportunities for organizations to apply best practices to their operations.
Work With Us
In addition to our work with agencies across the United States government, we partner with academic institutions and private companies to solve key technical challenges for current and future software-reliant systems. You can sponsor research and development, collaborate with us on research, and even get guidance from us to implement new methods.
Careers
Pursue your passion and work alongside world-recognized leaders in the field of software engineering. We invite you to view current employment opportunities, learn about benefits of working at the SEI, and apply for a position.