The SEI: The Leader in Software Engineering and Cybersecurity
Operated by Carnegie Mellon University, the Software Engineering Institute has been a leader in the fields of software engineering and cybersecurity since 1984. We research and solve complex, long-term problems for the Department of Defense, government agencies, and private industry, and we are always working to transition solutions to the software and systems engineering communities throughout the world.
Latest Publications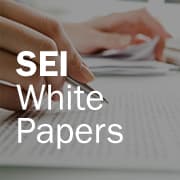 July 03, 2018 • White Paper
This paper explores low cost technical solutions that can help organizations prevent, detect, and respond to insider incidents.
Download
April 19, 2018 • White Paper
This short report provides a summary of the various analyses of the blacklist ecosystem performed from July 1, 2017, through December 31, 2017.
Download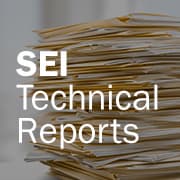 April 12, 2018 • Technical Report
This report presents an analysis of the economic effects of the System Architecture Virtual Integration approach on the development of software-reliant systems for aircraft compared to existing development paradigms.
Download
Research and Capabilities
Learn how we support the defense and information security of the United States by advancing the state of the art and practice in software engineering and cybersecurity. Through our research in seven capability areas, our experts push the boundaries of knowledge from R&D through implementation and operation. We create, test, and apply tools, technologies, and practices to acquire, develop, operate, and sustain software systems that are innovative, trustworthy, and cost effective.
News
July 11, 2018 • Article
Ozkaya will assume editorial duties in January 2019.
Read More
July 10, 2018 • Article
Peer-reviewed journal targets the prevention, identification, mitigation, and elimination of digital threats.
Read More
July 03, 2018 • Article
Software architects convene for spirited three-day program of speakers, courses, presentations, and networking
Read More
June 25, 2018 • Article
SiLK supports the efficient collection, storage, and analysis of network flow data, enabling network security analysts to rapidly query large historical traffic data sets.
Read More
Education and Outreach
Discover our numerous training and credentialing opportunities for individual professional development. We also offer workforce development and licensing opportunities for organizations to apply best practices to their operations.
Work With Us
In addition to our work with agencies across the United States government, we partner with academic institutions and private companies to solve key technical challenges for current and future software-reliant systems. You can sponsor research and development, collaborate with us on research, and even get guidance from us to implement new methods.
Careers
Pursue your passion and work alongside world-recognized leaders in the field of software engineering. We invite you to view current employment opportunities, learn about benefits of working at the SEI, and apply for a position.